Important Information | Upcoming Meeting Dates/ Times
TOMORROW | Sunday, April 24
9:40am At Church Team Commissioning and T-Shirts: All XYG Team members are expected to be at the commissioning. The service begins at 10am and the commissioning will take place early in the service. We will be wearing our trip t-shirts, so come a little early to get a shirt and put it on before the service. The service is typical over around 11am.
After Church: Go home quick, get lunch, grab your bags and meet everyone at the airport at — 1:45pm
1:45pm Meet at Airport (jetBlue): Originally I put a 2:30pm meeting time; however, with flight cancellations and the possibility of long lines with tourists leaving on Sunday, I have decided to push it back by 45 minutes. The flight is jetBlue Flight 1135 | 5:34pm
LUGGAGE CLARIFICATION — You ARE able to check a bag. The fee for doing so is $35 for 50 lbs and under. It is likely that you will not be able to pack everything you need in a carry on. If you plan to check a bag then please come with a check made out to the St. Thomas Reformed Church or bring cash.
We will have access to a Walmart in the area for any items forgotten, but please be thorough so we can avoid being bogged down with additional trips to the store.
THE WEATHER — The 10 day forecast in Cayey is that the high temps will be up to 80 in the daytime with lows around 66 degrees and as low as 64 in the evening. It will get chilly at night! Pack accordingly!
VACCINE CARD — If you've been vaccinated, then don't forget your vaccination card. We will be uploading to the portal during the week for our return flight the the USVI. If you are not vaccinated, then we will make arrangements for testing to get a negative test before we return.
SNACKS AND FOOD — You won't go hungry, fear not! But if you have favorite snacks, then feel free to bring them along and share! There will be drinks and other snack items at the facility. If there isn't enough then we will make sure we get more! I don't know what the specific menu is, but I have never gone hungry on a mission trip… we work hard and we eat good after the work!
Please make me aware of any dietary restrictions you may have if you've not previously communicated that information to me.
CONCERNING BEDDING — I have been told that there will be sheets and some blankets at the facility we are staying at. However, I encourage you to bring a sleeping bag/blanket and pillow at the very least. The air mattresses we're sleeping on will be twin size. Again, we will have a chance to get anything we don't have at Walmart,
Emergency Contact Information
Pastor Ben:
m. (712)360-1519
Dave Whitter (STRC Adult Leader):
m. (340-513-2617)
Judy Sables (STRC Adult Leader):
m. (248)496-1892
James Schofield (Director of Mazatlán Missions and on ground point of contact)
m. (719)640-4844
2022 Packing list
GENERAL:
ID (if 18+) or passport
COVID vaccination card
Bible
Pen or pencil
Any prescription meds
Bug spray
Sun screen
Water bottle
Flashlight
Gloves for work site
Hat, bandana or visor
Bath towel/ beach towel and shower shoes
Toiletries
Sheets and pillow
Small bottles of hand sanitizer for work sites
Ear plugs (you don't want someone snoring and keeping you awake!)
Basketballs, volleyballs, card games, frisbees, etc…
Cash for travel, snacks, and/or souvenirs.
Bring cash so you can purchase gifts and/or make donations for the resident you serve once you learn his or her needs (optional)
Snacks -optional b/c these will mostly be provided
If you do…PLEASE DO NOT BRING ANYTHING WITH PEANUT OIL!!!
CLOTHING
Work clothes (enough for 4 days and stuff you won't mind getting trashed!)
Long pants,
Long sleeve t-shirts
Sturdy shoes.
Shorts (Basketball short/ bermuda, or capris)
Skirts or dresses
Swim suit
Hiking shoes and/or water shoes for swimming
T-shirts
Light jacket/ rain jacket
*Carry-on luggage should contain your travel documents, medicines, and anything that you could not do without during your mission trip. It's a good idea to bring anything that you may need for the first 24 hours in your carry-on luggage, should anything happen to your suitcase en route. A set of toiletries (within airline standards) and a set of clean clothes are nice if you have space. Place any liquids under 2 ounces in a quart-size zip lock baggie. Scissors, pocket knives, and any liquids over 3 ounces must be placed in your checked bag. An empty water bottle is handy to have to go through security, then you may fill it with water before getting on the airplane. Check http://www.tsa.gov/ for more details.
*Cell phones can be carried for travel but will be collected upon arrival and then returned to you when we leave for the airport. Other electronics needed for study times are ok to bring but are reserved for study purposes only. Leave everything else at home and unplug!
Flight Details
April 24 Departing:
St. Thomas (STT) to San Juan (SJU)
Flight: 1136
Departs - 5:34pm
Arrives - 6:12pm
April 29 Arriving
San Juan (SJU) to St. Thomas (STT) | Terminal A
Flight: 1036
Departs - 4:09pm
Arrives - 4:45pm
Trip Schedule
This schedule is general and will differ slightly each day.
Sunday, April 24
10am Church
1:45pm Meet at Airport
5:34pm jetBlue Flight 1135
6:12pm Arrive in San Juan, PR
(get luggage and vehicles)
*TBD Travel to Cayey, PR
*TBD Arrive at Estadio Pedro Montañez baseball stadium
Monday, April 25
7am Morning devotions
7:30am Breakfast
8:30am Work Project Orientation
9am Work Projects
1pm Lunch
*Continue Work Projects
5pm Return to Stadium
6:30pm Dinner
8pm Group Time
11pm Lights out (each night)
Tuesday, April 26
7am Morning devotions
7:30am Breakfast
9am Work Projects
1pm Lunch
*Continue Work Projects
5pm Return to Stadium
6:30pm Dinner
8pm Group Time
11pm Lights out
Wednesday, April 27
7am Morning devotions
7:30am Breakfast
9am Work Projects
1pm Zip Line Outing
Campo Rico Ziplining Adventer
Mi Casa Hacienda Campo Rico Carolina
4pm Return to Stadium
6pm Dinner Out
8pm Group Time
11pm Lights out
Thursday, April 28
7am Morning devotions
7:30am Breakfast
9am Work Projects
1pm Lunch
*Continue Work Projects
5pm Return to Stadium
6:30pm Dinner
8pm Group Time
*Letters to Self
11pm Lights out
Friday, April 29 - travel day
7am Morning devotions
7:30am Breakfast
8:30am Pack Up/ Check Out
9am Depart for San Juan
*Hang Out Until Flight
1:30pm Arrive at airport
4:09pm jetBlue Flight 1036
4:45pm arrive at STT
Sunday, May 1
9am Rehearsal at church
9:20am Breakfast
10am Lead worship
11am GO HOME in Christ
Lodging
We will be staying at the Pedro Montañez Municipal Baseball Stadium in Cayey, PR. We will have our meals in the stadium restaurant and sleep in large conference rooms.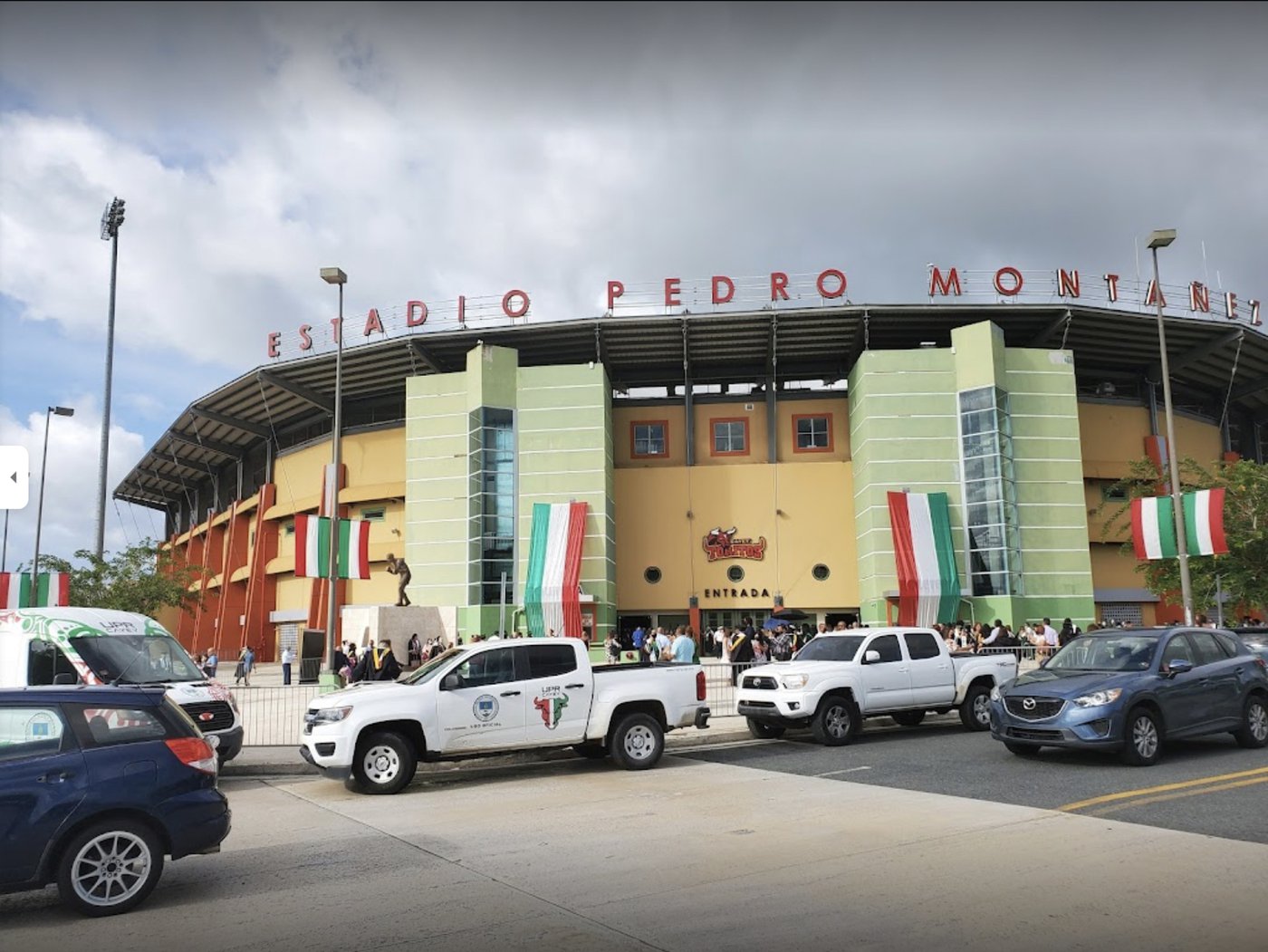 Downloadable Schedules | Forms | Packing List
Submit Forms